Wondering where your creativity will take you in 2018? Check back each month to see what your horoscope has in store for the days ahead.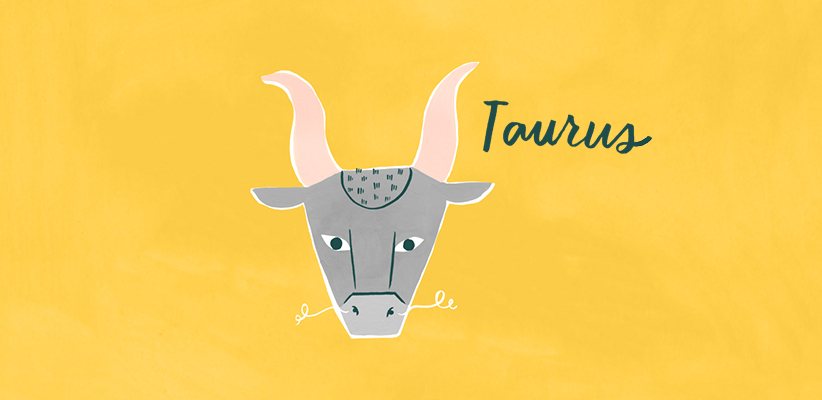 TAURUS
APR 20–MAY 20
ELEMENT: EARTH
KEYWORDS: STRONG-MINDED, LOYAL, STRIVES FOR SECURITY, PRACTICAL
No one's more devoted to family and friends than you. There's not an ounce of criticism about them when you're around. You have lots of friends, and you've known many of them since you were making friendship bracelets. Your patience and persistence make you the paragon of giving shape to projects. In fact, many of your sentences start with "Why don't we . . .?" And you're great at making others feel appreciated, whether it's dropping off a one-of-a-kind gift or a bouquet from your garden. You're reliable, warm-hearted, and loving…who wouldn't want you in their tribe?
HOROSCOPE FOR APRIL 2018
This April reminds us the way to everyone's hearts is through their stomachs. It's the perfect time for dusting off a fave family recipe or finding a new one. You're the maven of bringing people together through your mad culinary skills. Maybe you'll even start a new dinner tradition. After that, treat yourself to a well-deserved massage. Relax. You've earned it.
GEMINI
MAY 21–JUN 20
ELEMENT: AIR
KEYWORDS: COMMUNICATOR, INTELLIGENT, INQUISITIVE, QUICK-THINKER, CHANGEABLE
You put the "social" in "social butterfly." And people love you for it. Life of the party—that's you. When it comes to entertaining, you're the perfect host (and guest). And you enjoy a good heart-to-heart as much as anyone—maybe even more. You're a body (and mouth) in motion: eating, joking, talking, and texting simultaneously. Some say you have two personalities, and no one knows which one they'll encounter. But we would never say that—we prefer "adaptable" and "versatile." So fly, social butterfly, fly.
HOROSCOPE FOR APRIL 2018
Maybe you've tried quilting before, and it just didn't take. Or maybe you've always wanted to take voice lessons but haven't for some reason. Now is prime time because you are full on creative. Seriously. You're an idea factory—but a unique one, of course. You're asking  "what if" a lot, and the stars are here to help you create dazzling answers.
CANCER
JUN 21–JUL 22
ELEMENT: WATER
KEYWORDS: SENSITIVE, NURTURER, CARING, ARTISTIC, HOMEBODY
You wear your heart on your fashionable bell sleeve. Everyone knows you're loyal, empathetic, and emotional, all qualities that combine to make you loving—and lovable, too. Your intuition and creativity mean that you're one awesome gift giver, crafting that just-right something for anyone lucky enough to be celebrated by you. (Let's face it: You love to zhuzh things up.) You treasure all things home and family, and enjoy a quiet evening on the sofa more than any fancy event. Sometimes your imagination gets the best of you, and you tend to worry without cause, but that's nothing a bubble bath and a glass of Prosecco won't cure.
HOROSCOPE FOR APRIL 2018
April may bring a few showers but how else could flowers grow? It's time to treat yo'self. So buy a spring bouquet or splurge on dinner out with your besties. That will help you shake off those raindrops and dance in the puddles. This is a promising time of new beginnings. Dig deep into your well of inspiration, and channel your creative energies into something fun.
LEO
JUL 23–AUG 22
ELEMENT: FIRE
KEYWORDS: POWERFUL, AMBITIOUS, SELF-CONFIDENT, NATURAL LEADER, KIND
Confident, charismatic, creative—that's you. You're really good at taking charge, too. Others may call you "bossy" but what they really mean is "visionary" or "idealist." And when you complete a project, you'll take high-fives, fist bumps, woo-hoos, and any other form of praise you can get. But while you love appreciation, you're happy to scooch over and let the spotlight shine on someone else. Socializing is one of your special skills: You were born to entertain, choosing creative recipes and table settings that reflect your elegance, pride, hospitality, and generosity.
HOROSCOPE FOR APRIL 2018
Outta your way, Everybody! A new creative phase is dawning. You're full of ideas and the energy to make them happen. Enjoy those bursts of inspiration, Leo, but know that meanwhile a couple of friends may come to you for need extra attention. You'll be there for them—that's just how you do. It's also, one of the reasons people see you as the strong lioness you are.
VIRGO
AUG 23–SEP 22
ELEMENT: EARTH
KEYWORDS: ANALYTICAL, PRACTICAL, OBSERVANT, REFLECTIVE, GENTLE
You're a perfectionist. You kind of have to be with your perception of quality and attention to detail. Having people over for dinner? You're the one who's polishing the silver, putting out the grown-up wine glasses, and rearranging the flowers right up to the last minute—which is great because BOOM! Insta-worthy. You nail it every time. Still, with all that you could brag about, you're remarkably modest. Intelligent? Absolutely. Creative? Don't get us started. But you're shy about being center stage so you prefer ghostwriting and songwriting to any of the performing arts. You're super kind and tender, too.
HOROSCOPE FOR APRIL 2018
Forget about your strong sense of responsibility for now, and simply enjoy life. Whether it's journaling, the occasional craft sesh, or needlework, begin focusing on what those creative endeavors do for your heart. The more adventurous Virgo may even choose to take on painting a mural or remodeling. Whatever you choose, no worries! Resist the urge to make it perfect, and just appreciate the journey.
LIBRA
SEP 23–OCT 22
ELEMENT: AIR
KEYWORDS: SOCIAL, GRACIOUS, DIPLOMATIC, COOPERATIVE, FAIR-MINDED
If there's one thing you want in your world, it's balance. Not in an oh-that-frame-is-crooked-and-I-can't-just-sit-here kind of way. It's more about needing to bring fairness and equality to everyone around you—kinda like a super hero. And you're one hero who wants a sidekick around as much as possible. Whether it's a day out with your bestie or a night in with your person, you prefer partnership to alone time. Your inspiration comes from deep conversation and good books (probably two at a time!). Any time something sparks your imagination, you say, "Make it a double."
HOROSCOPE FOR APRIL 2018
As nature starts to green up all around, you're going to feel a rush of creative energy to take on new projects. (No, not just your tax returns.) But where to direct your efforts? Inside or out? Constructive or decorative? You do love a balance, Libra—so for your best results, match minds with a creative partner.
SCORPIO
OCT 23–NOV 21
ELEMENT: WATER
KEYWORDS: RESOURCEFUL, PASSIONATE, WILLFUL, DEDICATED, TRUE-BLUE
Don't want no crap, won't take no crap: That's you, friend. Call that attitude fierce or aware or woke—you won't settle for anything less yourself, and you have proven yourself time and again to friends who will call you loyal to the end. When your eyes are on what you want, you are determined and decisive. Why do people jump right in to be part of your squad? You're a natural leader and a natural bestie. When a friend is in need, you're on it. When a friend needs advice, you offer it. When a friend has a secret, you guard it like it's your own.
HOROSCOPE FOR APRIL 2018
Trust your gut this month, Scorpio—your instincts are stinger sharp. If the impulse strikes you to repaint that room or pack up for an outdoorsy weekend or relax with a drink in one hand and a notebook in the other, pay heed. Your mind and your body are one. Take advantage of every opportunity April offers.
SAGITTARIUS
NOV 22–DEC 21
ELEMENT: FIRE
KEYWORDS: IDEALISTIC, FUNNY, OUTDOORSY, GENEROUS, UNFILTERED
Freedom! That's your battle cry. You want to roam free, feel free, do what you do, and say what you want. There are no limits to your creativity. You're the ideal travel buddy for a spontaneous day trip. Your energy, curiosity and enthusiasm for anything new make you perfect for taking point on any excursion—near or far. Your open mind and wanderlust frequently drive (or fly!) you to different locales and cultures.
HOROSCOPE FOR APRIL 2018
Something's in that springtime air! (Besides allergens, even.) It's fun—and you've got a great sense of it. You'll be lighting up rooms and swirling in sunshine like the season is pouring right out of you. Get creative with themes for after-work happy hours, a weekend game night, or an April showers binge-watch with a bestie or two.
CAPRICORN
DEC 22–JAN 19
ELEMENT: EARTH
KEYWORDS: DISCIPLINED, RESPONSIBLE, KNOWING, TRADITIONAL, WELL-MANAGED
When your tribe is looking for the grown-up in the room, all eyes are on you. You're the organizer, the list-maker, the pal with a plan—and if that means that every now and then you're also the fun-killer, fine. You're the one everybody relies on to make things happen—the nights out, the weekends away, and the other fun stuff that seems to magically work out for you and your friends. What, that table for eight on a Saturday night just happened to be open? It's more than just managing things: You're a master at managing yourself, and those close to you admire you for it.
HOROSCOPE FOR APRIL 2018
While others revel in spring, you might find your mind more on your personal matters. (Big surprise.) That's okay—take care of work and family until you're at ease. Here's the payoff: As you do, you'll find yourself so open to fresh thinking and creative ideas that even work will feel like play.

AQUARIUS
JAN 20–FEB 18
ELEMENT: AIR
KEYWORDS: EXPRESSIVE, INDEPENDENT, ADVOCATING, PROGRESSIVE, ORIGINAL
For someone who can come off as quiet, you know how to find your voice when you want to. Usually, it's when you're standing up for someone else. You can imagine a better, happier world for us all—and you can envision a roadmap to get there. Your tribe is your jam, but you value your independence and alone-time…so your inner circle is a pretty exclusive club. And they're the first to notice when you've put yourself at the end of the line long enough and need to rest, restore, and recharge.
HOROSCOPE FOR APRIL 2018
There's a spring renovation project in the stars, Aquarius: You! Getting compliments on your zippy spring attitude? Turn those positive vibes into creative energy and focus it on you. Pick up some new kicks or a whole spring wardrobe. Ask your hairstylist for fun cut and color ideas—and try one.

PISCES
FEB 19–MAR 20
ELEMENT: WATER
KEYWORDS: ARTISTIC, INTUITIVE, COMPASSIONATE, WISE, FORGIVING
In life's recipe, you're the ingredient that makes everything taste so much better. You're more than an expert networker and mixer; you connect whole social circles. That's likely because you're helpful without expectation, faithful without wavering, and empathic without judgment. You get—really get—who people are and what they need, so of course you rule at the emotional part of relationships. Oh, and did we mention your flair for art and music? Yeah, you've got that, too.
HOROSCOPE FOR APRIL 2018
Birds gotta fly, fish gotta swim. And if you're feeling some solo swim time, Pisces, that's not a bad thing. A little self-reflection here, some inspirational searching there—that's the fuel you need for your next creative effort or some positive changes at work and at home. Do what you need to level up.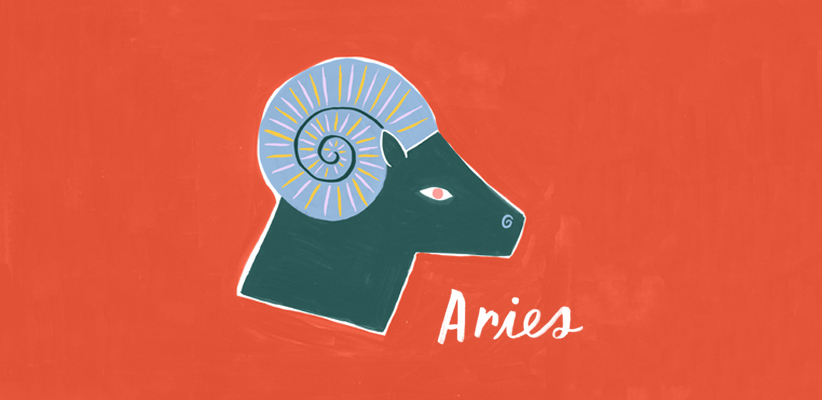 ARIES
MAR 21–APR 19
ELEMENT: FIRE
KEYWORDS: DETERMINED, DYNAMIC, PIONEER, ENTHUSIASTIC, COURAGEOUS
You blow our minds with all the things you cross off your to-do-list. You hate to be bored and are drawn to adventure. Fortunately, your friends are far too fond of you to be jealous of all you accomplish. They love you because you're SO VERY accepting and open—which explains a couple of the eccentrics you hang out with sometimes. (We say that with love.) It does you good to press "pause" from time to time by channeling your off-the-astrological-charts originality into crafts, creating, cooking, or making.
HOROSCOPE FOR APRIL 2018
Whether it's a planting a stunning garden or a beginning an amazing craft project, April is the perfect time for you to start something new. Make a plan, act on it and BOOM! Awesomeness happens. Not only that, your charm and wit are attracting people to you as strongly as we're attracted to brunch. (And you know how much we love brunch.) 
Illustrations by Hallmark artist Kelly C.